Properties For Sale - LaSalle County, Illinois
Goodwin & Associates Real Estate, LLC is real-estate Illinois land Brokerage Company that specializes in Land brokerage in LaSalle County, Illinois. Our focus is to assist both buyers and sellers with their land assets. We can help with marketing a land holding be it farmland, industrial land, retail land, commercial land, residential development land or finish commercial lots, residential lots and industrial lots in LaSalle County, Illinois. If you're searching for a land investment or for a specific need we can help you find farmland, residential development land, retail development land or industrial development land in LaSalle County, Illinois.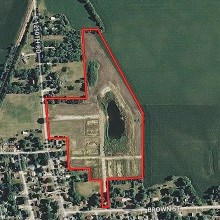 23 Ac Earlville Settler's Grove Development Site
** For Sale **
Total Investment:
$145,000
Unit Price:
Gross Land Area:
23 Total Acres
County:
LaSalle
City:
Earlville, IL
Township:
Earl
Property Details
Brochure
Brookfield Estates, Seneca Lots 19-40
** For Sale **
Total Investment:
Asking price is $220,000
Unit Price:
Gross Land Area:
22 lots with an approximate total of 22 acres
County:
LaSalle
City:
Seneca, IL
Township:
Manlius, Brookfield
Property Details
Brochure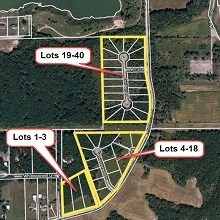 Brookfield Estates, Seneca Lots 4-18
** For Sale **
Total Investment:
Asking price is $262,500
Unit Price:
$17,500 per lot
Gross Land Area:
15 single family lots with an approximate total of 15 acres
County:
LaSalle
City:
Seneca, IL
Township:
Manlius, Brookfield
Property Details
Brochure
LaSalle County, Illinois Information
LaSalle County is located in north central Illinois and was named in honor of the early French explorer, Robert de LaSalle. When the 96-mile long Illinois and Michigan Canal was constructed, the City of Chicago became the eastern terminus and LaSalle became the western terminus. LaSalle boomed as a transshipment point for canal boats coming from Chicago and steamboats going to St. Louis and New Orleans. It became a place where Northern and Southern culture met. The area was a bustlng hub of activity for people and cargo. Passengers could catch a steambout heding south or a canal boat to Chicago. Coming off the steamboats were molasses, sugar, coffee, and fresh oranges and lemons. Canal boats loaded in Chicago carried lumber, cookstoves, wagons, and the latest clothing styles. The arrival of two immigrants in 1858 played a major role in the further development of the area. Frederick William Matthiessen met Edward C. Hegeler at a mining school, and after graduating in 1856, the two traveled together to the United States. In 1858, attracted by the abundance of coal, coupled with the excellent transportation links provided by the canal and the Illinois Central Railroad, they chose LaSalle as the site for an innovative zinc smelting plant –the first in the United States. Among its other uses, zinc was used to prevent corrosion of iron and steel. With the opening of the first steel production plant in Joliet, Will County, in the early 1870s, zinc became an important part of the local industrial economy. The Matthiessen and Hegeler Zinc Works became the largest producer of zinc in the country, and one of the largest in the world. Today, the Hegeler-Carus Mansion is a registered historic place, and a state park bears the Matthiessen name.
The current boundaries of LaSalle County have been in place since 1843. According to the 2010 U.S. Census, LaSalle has a total area of 1,148 sq mi (2,973 km2); of which 1,135 sq mi (2,940 km2) is land and 13 sq mi (34 km2) is water. The areas of water in LaSalle County include the Fox River (Illinois River tributary), Illinois River, Indian Creek (Fox River tributary), Little Vermilion River, Somonauk Creek, and the Vermilion River. In addition to the rivers, major shipping channel the Chicago Area Waterway System connects to the Mississippi River. LaSalle was the western terminus of the Illinois & Michigan Canal. Waterways are not the only means of transit of goods – LaSalle County is easily accessed from several major highways: it sits at the crossroads of Interstate 39 and Interstate 80, near US Route 6, US Route 34, US Route 51, US Route 52; Illinois Route 17, IL Route 18, IL Route 23, IL Route 71, IL Route 170, IL Route 178, IL Route 251, IL Route 351. There are two Class I Railroads with operations in LaSalle County: BNSF and IC.
LaSalle County is part of the Ottawa-Peru, IL Micropolitan Statistical Area, which is also included in the Chicago-Naperville, IL-IN-WI Combined Statistical Area in the State of Illinois. Though LaSalle County is in the Chicago media market, it retains a unique identity with a mix of pleasant river towns, and vast expanses of farmland. The county is at the intersection of the Chicago, Peoria, Quad Cities and Rockford television markets, with all four regions advertising (and businesses from the respective regions) and having a strong influence on the area such that despite the countys short distance from Chicago, approximately 60 miles (97 km). The county seat is the City of Ottawa, which was incorporated in 1853. Other cities in the county include Earlville, LaSalle, Marseilles, Mendota, Oglesby, Ottawa, Peru, Sandwich (part), Streator (part), and Wenona (part). Villages in LaSalle County include Cedar Point, Dalzell (part), Dana, Grand Ridge, Kangley, Leland, Leonore, Lostant, Millington (part), Naplate, North Utica, Ransom, Rutland, Seneca (part), Sheridan, Somonauk (part), Tonica and Troy Grove. LaSalle County has two census designated places, Dayton and Lake Holiday, along with multiple unincorporated areas including Altmar, Baker, Blakes, Catharine, Danway, Dimmick, Farm Ridge, Fitchmoor, Garfield, Harding, Hitt, Leeds, Lowell, Meriden, Milla, Mount Palatine (part), Northville, Norway, Peterstown, Prairie Center, Richards, Science, Serena, Stavanger, Sulphur Springs, Triumph, Waltham, Wedron, Welland (part), and Wilsman.
LaSalle County is divided into thirty-seven townships: Adams Township, Allen Township, Brookfield Township, Bruce Township, Dayton Township, Deer Park Township, Dimmick Township, Eagle Township, Earl Township, Eden Township, Fall River Township, Farm Ridge Township, Freedom Township, Grand Rapids Township, Groveland Township, Hope Township, LaSalle Township, Manlius Township, Mendota Township, Meriden Township, Miller Township, Mission Township, Northville Township, Ophir Township, Osage Township, Ottawa Township, Otter Creek Township, Peru Township, Richland Township, Rutland Township, Serena Township, South Ottawa Township, Troy Grove Township, Utica Township, Vermillion Township, Wallace Township, and Waltham Township. LaSalle County is one of the few counties in the United States to have nine adjacent counties: Lee County (northwest), DeKalb County (north), Kendall County (northeast), Grundy County (east), Livingston County (southeast), Woodford County (south), Marshall County (southwest), Putnam County (west), and Bureau County (west). Having been so long established, LaSalle County has nearly thirty locations listed on the National Register of Historic Places. Besides land use for residential, agricultural and industrial purposes, a number of areas are preserved as parks. Two well-known state parks are located in LaSalle County: Starved Rock State Park and Matthiessen State Park. Other park areas in LaSalle County are Buffalo Rock State Park, Illini State Park, Illinois and Michigan Canal State Trail, Allen Park, Baker Lake, Catlin County Park, Dayton Bluffs, Hopalong Cassidy River Trail & Canoe Launch, Lake Kakusha, Marilla Park, McPhedran Park, Mitchell's Grove Nature Preserve, Riverwalk & Fox River Park, Sandy Ford Natural Area, and Shabbona County Park.
Based on data from the U.S. Census Bureau, as of the 2010 United States Census, there were 113,924 people, 45,347 households, and 30,116 families residing in the county. The population density was 100.4 inhabitants per square mile (38.8/km2). There were 49,978 housing units at an average density of 44.0 per square mile (17.0/km2). Of the 45,347 households, 30.3% had children under the age of 18 living with them, 50.9% were married couples living together, 10.5% had a female householder with no husband present, 33.6% were non-families, and 28.6% of all households were made up of individuals. The average household size was 2.45 and the average family size was 3.00. The median age was 41.0 years. The median income for a household in the county was $51,705 and the median income for a family was $62,252. The per capita income for the county was $24,982.
LaSalle County has a varied climate, as does much of the Midwest. In recent years, average temperatures in the county seat of Ottawa have ranged from a low of 12 °F (-11 °C) in January to a high of 85 °F (29 °C) in July, although a record low of -25 °F (-32 °C) was recorded in January 1985 and a record high of 112 °F (44 °C) was recorded in July 1936. Average monthly precipitation ranged from 1.32 inches (34 mm) in February to 4.13 inches (105 mm) in June.
Average maximum and minimum temperatures in °F. Precipitation totals in inches.
| | | | |
| --- | --- | --- | --- |
| Month | Hi Temp | Low Temp | Precip Total |
| JAN | 30 | 12 | 1.5 |
| FEB | 37 | 18 | 1.3 |
| MAR | 49 | 29 | 2.6 |
| APR | 62 | 39 | 3.4 |
| MAY | 73 | 50 | 4.0 |
| JUN | 82 | 59 | 4.1 |
| JUL | 85 | 63 | 3.6 |
| AUG | 83 | 61 | 3.8 |
| SEP | 77 | 53 | 3.5 |
| OCT | 65 | 41 | 2.6 |
| NOV | 49 | 30 | 3 |
| DEC | 36 | 18 | 2.3 |
Goodwin & Associates Real Estate, LLC
It's hard to find a real-estate professional that specializes in Illinois Land Brokerage. Illinois Land brokerage is a very specialized segment of the real-estate industry and Illinois Land Brokers are hard to find. Any agent can sell a farm, but how many have the experience, expertise and qualifications of Goodwin & Associates Real Estate, LLC?

Mark Goodwin is a Illinois Land Broker who he can advise you about your land asset. It takes a knowledgeable Illinois Land Broker to understand how best to market your land asset or find the property that best fits the investors needs or desires. Goodwin and Associates is the land broker for you in LaSalle County, Illinois. Goodwin can help you with marketing or selecting farmland, commercial land, retail land, industrial land, residential development land, industrial development land, bulk sale residential lots, industrial lots and commercial lots.

Mark Goodwin

1-815-741-22261-815-741-2226mgoodwin@bigfarms.com
Property By County
---
DeKalb County, Illinois
Grundy County, Illinois
Kankakee County, Illinois
Kendall County, Illinois
Lake County, Illinois
LaSalle County, Illinois
McLean County, Illinois
Will County, Illinois
Search Properties
---
About Us
---

Goodwin & Associates Real Estate, LLC was formed in 1996 by Mark Goodwin, a University of Illinois graduate and vocational agriculture teacher. His firm numbers among the best real estate firms in the area for buyers and sellers of farm, commercial, development and residential land. Read More
Accredited Land Consultant (ALC)
2011 Award Recipient
Rotary International Member
CCIM Certified
REALTORS® Land Institute (RLI)
2011 Award Recipient
property alerts
Be alerted to new listings, changes in current listings, and closings as a way to keep your finger on the pulse of the land market.