34 Acre New Lenox Development Site(Sylvan Meadows)
| | |
| --- | --- |
| Status: | Sold |
| County: | Will |
| Township: | New Lenox |
| Address: | West Spencer Road (NE corner of Spencer and Nelson Rd.) New Lenox IL 60451 |
| Gross Land Area: | 34 Acres |
| | Hectare Conversion |
| Property Type: | Finished Lots & Vacant farmland with Development Potential |
| Possible Uses: | Agriculture production with residential potential |
| Total Investment: | $883,220 for 34 acres |
| | Monetary Conversion |
| Unit Price: | $26,000.00 per acre |
| Sold Price: | $955,000 |
| Productivity Index (PI): | 125.7 |
| Buildings: | No Buildings |
| Utilities: | Utilities are at the site |
For more information contact:
Mark Goodwin
1-815-741-2226
1-815-741-2226
mgoodwin@bigfarms.com
Goodwin & Associates Real Estate, LLC
is an AGENT of the SELLERS.
** Sold **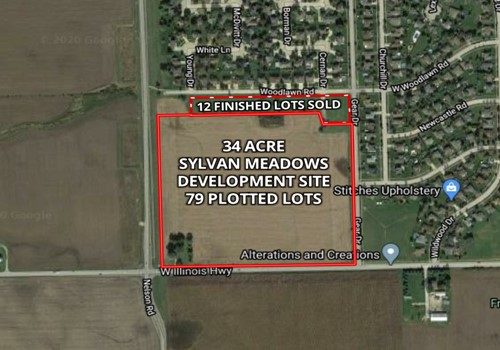 + View Brochure
property alerts
Be alerted to new listings, changes in current listings, and closings as a way to keep your finger on the pulse of the land market.
Property Overview
Sylvan Meadows is a 34 Acre development site in the desirable community of New Lenox. There are 34 acres platted for 79 single family lots. This development property is in great school districts and is near Shopping, Expressways and the Metra train station. Frontage on four roads, Nelson, Illinois Highway, Gear Dr. and Woodland Rd.
+ View Brochure
+ View Property Disclaimer and Disclosure.
Property Map
Listing Details
General Information

Listing Name:
34 Acre New Lenox Development Site (Sylvan Meadows)
Tax ID Number/APN:
15-08-21-300-016 (33.97 Acres)
Possible Uses:
This is a platted annexed and zoned subdivision called Sylvan Meadows. There are 79 platted lots.
Zoning:
Zoned R-2A by the village of New Lenox
Minimum lot with is 84 feet
2000 SF minimum 2-story home
1800 SF minimum ranch home


Area & Location

School District:
New Lenox Grade School District 122
Lincoln-Way Community High School District 210

Market Type:
Suburban market, see tapestry segmentation for New Lenox proper and the three mile radius of the site.
Location Description:
New Lenox is a suburban village in Will County, IL. It is the "Home of Proud Americans" The development site is just south of Rt. 30, which is the main thoroughfare thought town. There is access to I-80, shopping and a Metra station.


Site Description:
This site is level farmland with roads on four sides, Woodlawn, Nelson, Gear Drive and Illinois Highway (Old Spencer Rd).
Side of Street:
The property is on the northeast corner of Illinois Highway and Nelson Rd.


Highway Access:
I-80 is only 1.8 miles to the northwest at the Rt. 30 access ramp.


Road Type:
Asphalt roads are on all four sides of the property.
Property Visibility:
This is an excellent corner parcel with visibility from four roads.
Largest Nearby Street:
Rt. 30 is only 1.5 miles north.
Transportation:
The Metra station at Cedar road is only 1.8 miles northeast of the site. I-80 highway access is only 1.8 miles north and I-355 is approximately 4 miles north.

Land Related

Lot Frontage (Feet):
1132 feet on Nelson Rd
1280 feet on W. Illinois Highway
1053 feet on Gear Dr.

Buildings:
No buildings on this property.
Zoning Description:
The Village of New Lenox has this property zoned R-2A single family residential with a minimum platted lot width is 84 feet. The building restrictions are 2000 SF minimum for a 2-story home and 1800 SF minimum for a ranch home.

Flood Plain or Wetlands:
The 34 acre property is clear of wetlands and FEMA Flood Zones
Topography:
This 34 acre property is relatively flat. The contours can be seen in the topography map included in the brochure.
Available Utilities:
All utilities are available through the village of New Lenox.



Financials

Finance Data Year:
2018 taxes paid in 2019
Real Estate Taxes:
33.97 acre tax bill was $2,000.98 or $58.90 per acre.


Investment Amount:
Ownership is selling the 33.97 acres of platted vacant farmland for $26,000 per acre for a total of $883,200.00


Location

Address:
NE corner of W. Illinois Highway and Nelson Road, New Lenox, IL 60451

County:
Will County
MARK GOODWIN PROFESSIONAL BIOGRAPHY
It is difficult to find a real estate professional that specializes in Illinois Land Brokerage. Our services area includes Kendall County, Grundy County, Kane County, LaSalle County, Kankakee County, Livingston County, Ford County,Bureau, Henry County, Kane County, Dekalb County, Lake County, Iroquois County, Vermilion County, Kankakee County, and Cook County. Illinois Land Brokerage is a very specialized segment of the real estate brokerage industry. Knowledgeable Land Brokers are difficult to find. Many agents can sell a farm, but how many have the experience and qualifications of Goodwin and Associates?
Mark Goodwin is a Illinois Land Broker who can advise you about your land asset. It takes an experienced Illinois Land Broker to understand how best to market your land asset or find the property that best fits the investors needs or desires. Goodwin and Associates is the Land Broker for you in Illinois. We can help you with the marketing of your farm, residential development land, industrial land and commercial land or help with the selection of farmland, commercial land, retail land, industrial land, residential development land, residential lots, industrial lots and commercial lots. We are here to help you reach your goals.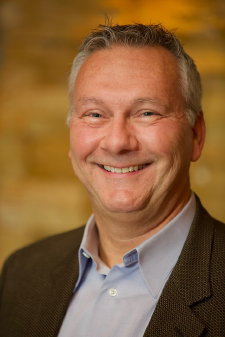 For more information about property for sale in New Lenox, Illinois (New Lenox Township, Will County) contact:
Mark Goodwin - Illinois Land Broker
1-815-741-2226
1-815-741-2226
mgoodwin@bigfarms.com
Goodwin & Associates Real Estate, LLC
is an AGENT of the SELLERS.