Will County, Illinois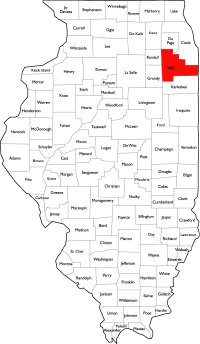 Will County is located in northeastern Illinois. Although it may be hard to imagine, the area that became Will County was covered by prairies. Native Americans, including Potawatomi, farmed and trapped throughout the area. European fur traders joined the fur trade in the late seventeenth century. The fur trade had waned by the 1820s, but a population expansion had just begun. Some historians note settlement of Will County as early as 1829, when Charles Reed (who has a Plainfield Elementary School named for him), Joseph and Eli Shoemaker, John Coons, and George and Henry Linebarger left Parke County, Indiana, and came through to what is now the town of Jackson. One of the first well-known permanent white settlements, Walker's Grove, was established by Jesse Walker and Reuben Flagg in 1826 near the current village of Plainfield. Other early settlers whose names are found throughout Will County included Philip Scott (1830); Captain Robert Stevens, Elder Beggs and Jedidiah Wooley (1831). Also in 1831, William Gougar, Judge Davidson and Lewis Kercheval built their cabins on Hickory creek, while Cornelius Van Horne located his at what has since been known as Van Horne's Point. And it was the same year that Reason Zarley built his cabin two miles south of the city of Joliet. There were also Horace Morse, William Gooding, and Armisted Runyon, who located in what is now Lockport. Most new settlers relied on milling, agriculture, and trade for their subsistence. These settlers grew weary of day-long trips to the City of Chicago for legal transactions, and petitioned the State for separation. Thus, Will County was formed in 1836, using portions of Cook and Iroquois Counties. Will County then included a portion of land in the Kankakee area, north of the Kankakee River, which is now part of Kankakee County. Will County was named in honor of Conrad Will, a prominent politician at the time. When the Illinios and Michigan Canal opened in 1848, Joliet became a major hub of industry, commerce and settlement. In addition to farm crops and livestock, Will County was for a time a center of coal mining. As the coal supply dwindled, quarrying of limestone boomed, earning Joliet the nickname of Stone City. Limestone mined in Joliet was shipped to Chicago for use in construction of residences and other buildings, including the historical Water Tower.
The current boundaries of Will County have been in place since 1852 and encompass 849 square miles (2,200 km2). According to the U.S. Census Bureau, 837 square miles (2,170 km2) is land and 12 square miles (31 km2) is water. The areas of water in Will County include the DuPage, Des Plaines and Kankakee Rivers, which intersect at the County's western border. In addition to the rivers, major shipping channels Illinois & Michigan Canal and Chicago Sanitary and Ship Canal run through Will County. Waterways are not the only means of transit of goods – Will County is easily accessed from many major highways: Interstate 55, Interstate 355, Interstate 80, Interstate 57, US Route 6, US Route 30, US Route 45, US Route 52; Illinois Route 1, IL Route 7, IL Route 43, IL Route 50, IL Route 53, 5 IL Route 9, IL Route 102, IL Route 113, IL Route 126, IL Route 129, IL Route 171, and IL Route 394. Parts of Will County connect to Chicago via various Metra commuter lines: Southwest Service, Rock Island District, Metra Electric Main Line, and Heritage Corridor. According to the Will County Center for Economic Development, there are six Class I Railroads with operations in Will County: Burlington Northern Santa Fe (BNSF), Union Pacific (UP), Chessie Seaboard X (CSX), Canadian National (CN), Norfolk Southern (NS), and Illinois Central (IC). Will County's Inland Port is an integral and growing part of Chicago's national rail hub. Two modern intermodal facilities have been constructed in southwest Will County since 2002 to handle the transfer of both domestic and international containers. Will County is also the largest inland port in North America
Will County is among the fastest-growing counties in the State of Illinois. The county seat is the City of Joliet, which was incorporated in 1852 under the alternate name of Juliet. Other cities in the county include parts of Naperville (voted Second Best City to live in, 2017), parts of Aurora, Braidwood, Channahon, Crest Hill, Lockport, and Wilmington. Villages within Will County are Beecher, parts of Bolingbrook, Braceville, part of Channahon, Coal City (part), Crete, most of Diamond, Elwood, Frankfort (part), Godley (part), Homer Glen, Lemont (part), Manhattan, Minooka (part),Mokena, Monee, New Lenox, Orland Park (part), Park Forest (part), Peotone, Plainfield (part), Rockdale, Romeoville, Sauk Village (part), Shorewood, Steger (part), Symerton, Tinley Park (part), University Park (part), and Woodridge (part). Will County is divided into these townships: Channahon Township, Crete Township, Custer Township, DuPage Township, Florence Township, Frankfort Township, Green Garden Township, Homer Township, Jackson Township, Joliet Township, Lockport Township, Manhattan Township, Monee Township, New Lenox Township, Peotone Township, Plainfield Township, Reed Township, Troy Township, Washington Township, Wesley Township, Wheatland Township, Will Township, Wilmington Township, Wilton Township. Adjacent counties are DuPage County (north), Cook County (northeast), Lake County, Indiana (east), Kankakee County (south), Grundy County (southwest), Kendall County (west) and Kane County (northwest). Having been so long established, Will County has thirty-six locations listed on the National Register of Historic Places. Besides land use for residential, agricultural and industrial purposes, a number of areas are preserved as parks (over 20,000 acres (81 km2) total) under the Forest Preserve District of Will County. The 17,000 acres (69 km2) Midewin National Tallgrass Prairie is a U.S. Forest Service park in Will County on the grounds of the former Joliet Arsenal. Other parks include Channahon State Park, Isle a la Cache, Lake Renwick Preserve, and the Des Plaines Fish and Wildlife Area.
Based on data from the U.S. Census Bureau, as of the 2010 United States Census, there were 677,560 people, 225,256 households, and 174,062 families residing in Will County. The population density was 809.6 inhabitants per square mile (312.6/km2). There were 237,501 housing units at an average density of 283.8 per square mile (109.6/km2). Of the 225,256 households, 44.0% had children under the age of 18 living with them, 61.9% were married couples living together, 10.9% had a female householder with no husband present, 22.7% were non-families, and 18.5% of all households were made up of individuals. The average household size was 2.97 and the average family size was 3.41. The median age was 35.4 years. The median income for a household in the county was $75,906 and the median income for a family was $85,488. The per capita income for the county was $29,811.
Will County has a varied climate, as does much of the Midwest. The Weather Channel indicates average temperatures in recent years measured at the county seat of Joliet have ranged from a low of 13°F (-11°C) in January to a high of 85°F (29°C) in July, although a record low of -26°F (-32°C) was recorded in January 1985 and a record high of 104 °F (40°C) was recorded in June 1988. Average monthly precipitation ranged from 1.58 inches (40 mm) in January to 4.34 inches (110 mm) in July.
Will County
Back