160 Acre Wall Township Farm
| | |
| --- | --- |
| Status: | Sold |
| County: | Ford |
| Township: | Wall |
| Address: | 1425 E 1000N Road Melvin IL 60952 |
| Gross Land Area: | 160 Acres |
| | Hectare Conversion |
| Property Type: | Vacant Farm Land |
| Possible Uses: | Agricultural Production |
| Total Investment: | $1,712,000.00 |
| | Monetary Conversion |
| Unit Price: | $10,700.00 per Acre |
| Sold Price: | $1,760,000.00 |
| Productivity Index (PI): | 127.1 |
| Buildings: | No Buildings on this Parcel |
| Utilities: | Electric, Well and Septic |
| Zoning: | Agriculture |
For more information contact:
Goodwin & Associates Real Estate, LLC
is an AGENT of the SELLERS.

Goodwin & Associates




Real Estate, LLC


1-815-741-2226

1-815-741-2226



** Sold **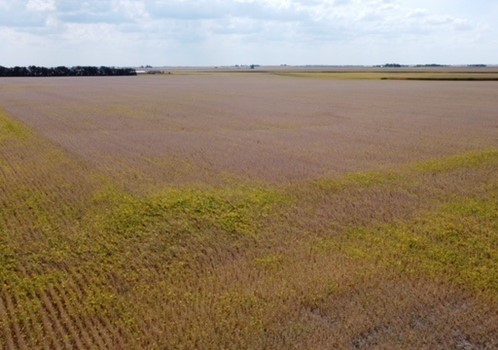 + View Brochure
property alerts
Be alerted to new listings, changes in current listings, and closings as a way to keep your finger on the pulse of the land market.
Property Overview
This 160 acre parcel, with a soil PI of 127.1, in Wall Township is located in east Central Illinois, Melvin is located 6.8 miles from Interstate 57 at US Highway 45 and Illinois Route 9, just 35 miles from the University of Illinois, in Champaign, IL and 44 miles from Illinois State University and Illinois Wesleyan University, in Bloomington, IL. Using I-57 Melvin, IL is 107 miles from Chicago, IL and 99 miles to Midway Airport.
+ View Brochure
+ View Property Disclaimer and Disclosure.
Property Map
Listing Details
General Information

Listing Name:
160 Acre Wall Township Farm

Tax ID Number/APN:
06-10-16-100-001
Possible Uses:
Agriculture

Area & Location

School District:
Gibson City-Melvin-Sibley Community Unit School District
Location Description:
This 160 acre parcel is located in Central IL 110 miles south of Chicago and 35 miles northeast of Champaign, IL in Wall Township, Ford County.
Site Description:
This parcel is relatively flat with some undulations.
Side of Street:
This 160 acre parcel sits at the south and east of the intersection of East 1000 North Road and North 1400 East Road
Highway Access:
I-57 is located 6.8 miles to the east of this parcel.
Largest Nearby Street:
Illinois Route 115 is located .5 miles from the eastern edge of the property.
Transportation:
Illinois Central Railroad is located in Paxton, Il with service to Champaign and Chicago. Melvin is located 99 miles to the south of Midway Airport.

Land Related

Lot Frontage (Feet):
This 160 acre parcel has 2600 feet of frontage along E1000N road and 2600 feet of frontage along N1400E road.
Tillable Acres:
This parcel is all tillable, but there is approximately 3.6 acres of wetland in the northeast portion of the land.
Lot Depth:
The lot is 2600 feet deep from north to south and east to west.
Flood Plain or Wetlands:
This 160 acre parcel does not have any FEMA flood zones, but does have approximately 3.6 acres of wetland. See the Wetland map for further detail.
Topography:
This parcel is slightly hilly with approximately 4.86 feet of deviation. See the Topography, Hillshade and Contours map in the brochure for further detail.
Soil Type:
Ashkum Silty Clay Loam (232A)
Elliot Silt Loam (146A)
Martinton Silt Loam (189A)
Elliot Silty Clay Loam (146B2)

Available Utilities:
Well and Septic

Financials

Finance Data Year:
2020 Taxes Paid in 2021
Real Estate Taxes:
$5490.58 taxes were paid or $34.32 per acre
Investment Amount:
The total amount to purchase this 160 acre parcel is $1,712.000.00 or $10,700.00 per acre.

Location

Address:
1425 E 1000N road
Melvin, IL 60952
County:
Ford
DOUGLAS W. DEININGER, ALC PROFESSIONAL BIOGRAPHY
As a member of the Illinois Farm and Land Brokers Chapter of the Realtors Land Institute, he was elected state President in 2000. In 2008 he acquired his Accredited Land Consultant accreditation (ALC) and also the Chapter awarded Mr. Deininger the Land Broker of the year award.
Doug has been a speaker at numerous Farmland Seminars sharing his expertise on farm land values, leasing, and 1031 like kind exchanges.
He has been a licensed farm real estate broker in Illinois for over 30 years. Throughout his career Mr. Deininger has sold or acquired approximately 100 million dollars in farm real estate. He has a genuine interest in finding the best possible solution for his clients.
Goodwin & Associates Real Estate, LLC
is an AGENT of the SELLERS.

GOODWIN & ASSOCIATES REAL ESTATE, LLC
Goodwin & Associates Real Estate, LLC, LLC was established in 1996 as a land brokerage company. We specialize in farmland sales and marketing. We also offer brokerage services with industrial land, commercial land, residential development land and retail development land.
Goodwin & Associates Real Estate, LLC is based in Will County, but has effectively marketed and brokered properties from Metropolis Illinois to Grayslake Illinois. We are a full-service brokerage company with answers to your questions. In our years of experience, we have helped clients with the purchase and marketing of hundreds of millions of dollars in land investments.
For more information about property for sale in Melvin, Illinois (Wall Township, Ford County) contact:
Goodwin & Associates Real Estate, LLC
1-815-741-2226
1-815-741-2226