50 Ac Cortland Development Site
| | |
| --- | --- |
| Status: | Active |
| County: | DeKalb |
| Township: | Cortland Township |
| Address: | N. Somonauk Road Cortland IL 60112 |
| Gross Land Area: | 50.3 Acres |
| | Hectare Conversion |
| Property Type: | Vacant farmland with Development Potential |
| Possible Uses: | Agricultural Production |
| Total Investment: | $513,600 |
| | Monetary Conversion |
| Unit Price: | $10,200 per acre |
| Productivity Index (PI): | 131.9 |
| Buildings: | No Buildings |
| Utilities: | All utilities available at the site |
| Zoning: | Currently zoned Agriculture with potential for residential development |
For more information contact:
Mark Goodwin
1-815-741-2226
1-815-741-2226
mgoodwin@bigfarms.com
Goodwin & Associates Real Estate, LLC
is an AGENT of the SELLERS.
** For Sale **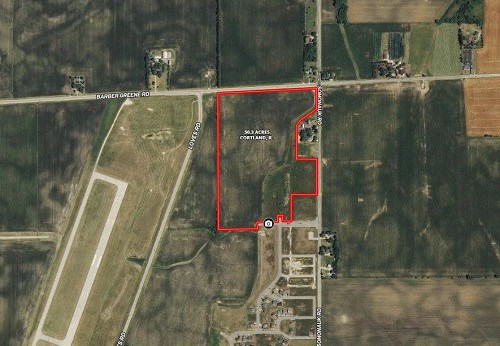 + View Brochure
Property Overview
50 acres on the north-side of Cortland along Somonauk road and Barber Greene road. The site is in the Sycamore Community School District. Excellent road frontage and exposure for the next wave of residential development. Originally part of a larger development project called Nature's Crossing Mixes Use PUD. There is a regional airport near the site and Northern Illinois University is on the west side of DeKalb. Good farmland with utilities at the site for future development.
+ View Brochure
+ View Property Disclaimer and Disclosure.
Property Map
Listing Details
General Information

Listing Name:
50 Ac Cortland Development Site
Tax ID Number/APN:
09-17-100-018
Possible Uses:
Residential Development, formerly the Nature's Crossing Subdivision
Zoning:
Currently zoned Agriculture. The site was previously zoned R-1 Single Family, R-2 Duplex, R-4 Senior Multi-family.

Area & Location

School District:
Sycamore Community Unit School District 427
Location Description:
The parcel is on the north side of Cortland with frontage on Somonauk Rd and Barber Green Rd.
Site Description:
Corner parcel with infrastructure on the south side of the property. Approximately 9 acres has not been farmed in several years. Top soil pile can be found on this small area.
Side of Street:
Southwest corner of Barber Greene & Somonauk Rd.
Highway Access:
I-88 is only 4.8 miles South
Rt 38 is 2.2 miles South
Road Type:
Asphalt
Property Visibility:
Excellent corner location with frontage on Somonauk Road and Barber Greene. Additional frontage on Goldenrod street.

Land Related

Lot Frontage (Feet):
1300 feet of frontage on Barber Greene Rd
730 feet of frontage on Somonauk Rd.
Tillable Acres:
There are approximately 44.6 tillable acres in this parcel. Currently only about 34.2 acres are being farmed. There is an an additional 9 acres that has potential to be put back into production.
Buildings:
No Buildings
Zoning Description:
See zoning map for the parcel that is included with this brochure.
The platted lots breakdown as follows:
42 R-1 Single family lots
31 R-2 Duplex lots
5.65 Acres of R-4 Multi-family/Senior living
12.65 Acres of Park/Open Space and Storm water management
Flood Plain or Wetlands:
There is a small drainage ditch that runs through the property.
Topography:
Flat to gently rolling
FSA Data:
The farm for sale is part of a larger parcel of farmland. The PLC Yield is 160 bushels per acre.
Soil Type:
356A Elpaso silty clay loam
221B2 Parr sitl loam
512B Danabrook silt loam
Soil Fertility:
Average PH is 6.58
Average P2 is 53.1
Average K1 is 156
Average OM is 3.47
Average CEC is 17.57
Available Utilities:
Utilities are available from the village of Cortland.

Financials

Finance Data Year:
2016 Tax year
Real Estate Taxes:
Real-estate taxes paid in 2017 for tax year 2016 were $1,982.
Investment Amount:
Sellers are asking $10,200 per acre for a total investment of $513,060.

Location

Address:
Somunauk Rd. Cortland
County:
DeKalb County Illinois
MARK GOODWIN PROFESSIONAL BIOGRAPHY
It is difficult to find a real estate professional that specializes in Illinois Land Brokerage. Our services area includes Will County, Grundy County, Kendall County, LaSalle County, Kane County, Kankakee County, Livingston County, and Ford County. Illinois Land Brokerage is a very specialized segment of the real estate brokerage industry. Knowledgeable Land Brokers are difficult to find. Many agents can sell a farm, but how many have the experience and qualifications of Goodwin and Associates?
Mark Goodwin is a Illinois Land Broker who can advise you about your land asset. It takes an experienced Illinois Land Broker to understand how best to market your land asset or find the property that best fits the investors needs or desires. Goodwin and Associates is the Land Broker for you in Illinois. We can help you with the marketing of your farm, residential development land, industrial land and commercial land or help with the selection of farmland, commercial land, retail land, industrial land, residential development land, residential lots, industrial lots and commercial lots. We are here to help you reach your goals.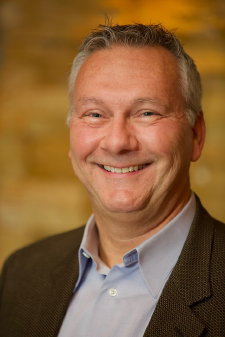 For more information about property for sale in Cortland, Illinois (Cortland Township Township, DeKalb County) contact:
Mark Goodwin - Illinois Land Broker
1-815-741-2226
1-815-741-2226
mgoodwin@bigfarms.com
Goodwin & Associates Real Estate, LLC
is an AGENT of the SELLERS.
newsletter/property alert sign up