42 Ac Testin Farm Bureau County
| | |
| --- | --- |
| Status: | Sold |
| County: | Bureau |
| Township: | Mineral Township |
| Address: | 17945-18249 County Rd 575E Sheffield IL 61361 |
| Gross Land Area: | 42.67 Acres |
| | Hectare Conversion |
| Property Type: | Vacant Farmland |
| Possible Uses: | Agriculture grain production |
| Total Investment: | $362,695 |
| | Monetary Conversion |
| Unit Price: | $8,500 per acre |
| Sold Price: | $342,160 |
| Productivity Index (PI): | 130.9 |
| Buildings: | No Buildings |
For more information contact:
Mark Goodwin
1-815-741-2226
1-815-741-2226
mgoodwin@bigfarms.com
Goodwin & Associates Real Estate, LLC
is an AGENT of the SELLERS.
** Sold **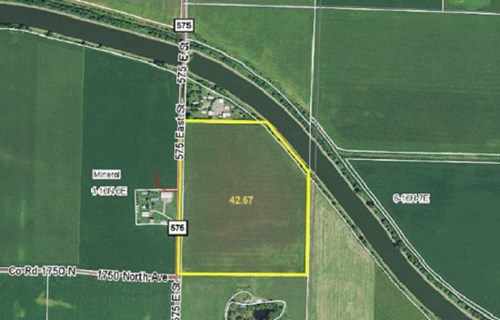 + View Brochure
Property Overview
42.67 acres of high quality farmland in Bureau County just north of Sheffield and east of Mineral. Access to I-80 is only 5 miles SE of the farm at Rt 40. The farm is found in section 1 of Mineral Townships. No buildings, PI of 130.1. Farm is currently cash rented for the 2017 crop year. Current tenant is interested in leasing the farm from the new owner. There is an additional 87 acres half a mile north on the west side of 575 Road. The farm is adjacent to the Hennepin Canal & Parkway State Trail. Fertility levels are good, maps are available from listing broker. Lime was applied in fall of 2013.
+ View Brochure
+ View Property Disclaimer and Disclosure.
Property Video
Property Map
Listing Details
General Information

Listing Name:
42 Acre Testin Farm, Bureau County Illinois
Tax ID Number/APN:
13-01-200-004 Mineral Township 42.37 acres of 69.03 acre tax ID#

Possible Uses:
Agriculture grain production
Sale Terms:
Sellers are looking for a cash sale

Area & Location

School District:
Bureau Valley Unit School District #340
Location Description:
The farm is located approximately 5 miles NW of the Rt 40 & I-80 Interchange. The farm is in Mineral Townships. Seller has an additional 87 acres available in Gold Township about half a mile north.
Site Description:
High quality farmland in Bureau County. Good road frontage on County road 575E. The farm also has access and frontage on the Hennepin Canal State Park and Parkway State Trail.
Highway Access:
Approximately 5 miles to I-80 access.
Road Type:
Tar & chip
Property Visibility:
Excellent road frontage and visibility.
Largest Nearby Street:
Rt 40 to the east and Rt. 34 to the south.

Land Related

Yield History:
Year Corn Yield Soybean yield
2013 193 bu/ac N/A
2014 174 bu/ac N/A
2015 186 bu/ac 55 bu/ac
2016 209 bu/ac 66 bu/ac
Yield history is for the entire 228 acres.
Tillable Acres:
Parcel One has 41.26 tillable acres
Corn base yield of 145
Soybean base yield of 46
The farm is enrolled in the ARC-Co USDA farm program
Buildings:
No buildings
Topography:
Level farmland
Soil Type:
The primary soil types found on this farm are:
Selma loam (125A)
Plano silt loam (199B)
Harpster silty clay loam (67A)
The farms overall Productivity index (PI) is 130.1

Financials

Finance Data Year:
2015 Tax year
Real Estate Taxes:
13-01-200-004 Mineral Township with 69.03 acres $2,093 or $33.32 per acre.
Investment Amount:
The farm is being offered at $8,900 per acre for a total investment of $379,763.00

Location

Address:
17945-18249 County road 575 E
Sheffield, IL 61361

County:
Bureau County Illinois
MARK GOODWIN PROFESSIONAL BIOGRAPHY
It is difficult to find a real estate professional that specializes in Illinois Land Brokerage. Our services area includes Will County, Grundy County, Kendall County, LaSalle County, Kane County, Kankakee County, Livingston County, and Ford County. Illinois Land Brokerage is a very specialized segment of the real estate brokerage industry. Knowledgeable Land Brokers are difficult to find. Many agents can sell a farm, but how many have the experience and qualifications of Goodwin and Associates?
Mark Goodwin is a Illinois Land Broker who can advise you about your land asset. It takes an experienced Illinois Land Broker to understand how best to market your land asset or find the property that best fits the investors needs or desires. Goodwin and Associates is the Land Broker for you in Illinois. We can help you with the marketing of your farm, residential development land, industrial land and commercial land or help with the selection of farmland, commercial land, retail land, industrial land, residential development land, residential lots, industrial lots and commercial lots. We are here to help you reach your goals.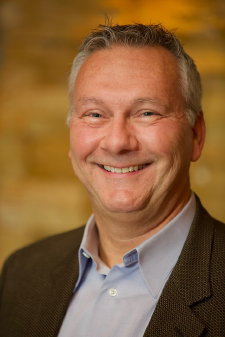 For more information about property for sale in Sheffield, Illinois (Mineral Township Township, Bureau County) contact:
Mark Goodwin - Illinois Land Broker
1-815-741-2226
1-815-741-2226
mgoodwin@bigfarms.com
Goodwin & Associates Real Estate, LLC
is an AGENT of the SELLERS.
newsletter/property alert sign up