Illinois Property For Sale - Commercial Buildings
Goodwin and Associates Real Estate LLC is a real estate Illinois land brokerage company that specializes in Land brokerage in Illinois. Our focus is to assist both buyers and sellers with their land assets. We will help with marketing a land holding such as Illinois commercial buildings. If you are interested in land investment or for a specific need we can help you find Illinois commercial buildings. We customize our services to your needs.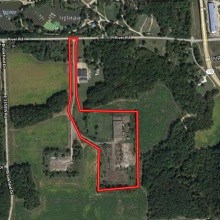 38,000 Sq. Ft. Industrial Building Seneca
** For Sale **
Total Investment:
$1,250,000 for 38,000 SF & 10 acres. $175,000 for additional 10 acres.
Unit Price:
Gross Land Area:
10 Acres with building, additional 10 acres available.
County:
LaSalle
City:
Serena, IL
Township:
Manlius - Brookfield
Property Details
Brochure
Goodwin & Associates Real Estate, LLC
It's hard to find a real-estate professional that specializes in Illinois Land Brokerage. Illinois Land brokerage is a very specialized segment of the real-estate industry and Illinois Land Brokers are hard to find. Any agent can sell a farm, but how many have the experience, expertise and qualifications of Goodwin & Associates Real Estate, LLC?

Mark Goodwin is a Illinois Land Broker who he can advise you about your land asset. It takes a knowledgeable Illinois Land Broker to understand how best to market your land asset or find the property that best fits the investors needs or desires. Goodwin and Associates is the land broker for you in Illinois. Goodwin can help you with marketing or selecting farmland, commercial land, retail land, industrial land, residential development land, industrial development land, bulk sale residential lots, industrial lots and commercial lots.

Mark Goodwin

1-815-741-22261-815-741-2226mgoodwin@bigfarms.com
Property Types
---
Farmland
Commercial & Industrial Land
Transitional Land
Commercial Buildings
Finished Lots
Development Land
Search Properties
---
About Us
---

Goodwin & Associates Real Estate, LLC was formed in 1996 by Mark Goodwin, a University of Illinois graduate and vocational agriculture teacher. His firm numbers among the best real estate firms in the area for buyers and sellers of farm, commercial, development and residential land. Read More
Accredited Land Consultant (ALC)
2011 Award Recipient
REALTORS® Land Institute (RLI)
2011 Award Recipient
Rotary International Member
CCIM Certified
newsletter/property alert sign up